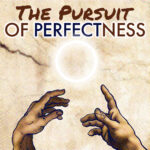 Do you struggle to keep your living space neat and clean? Welcome to the human race, bud!
This week, the Perfectionists (Ellen and Dennis) share their thoughts on tidying and reveal some hidden, dark truths about their own struggles with tidiness.
Also, PoP listeners share their own tips on how to keep your living space… kempt * (and how to deal when it's not).
It's the episode where we talk about tidying!
Rate us on Spotify and Apple Podcasts, and if you're listening on Apple Podcasts, leave us a review! And tell your friends!
* Look, there aren't a lot of great synonyms for "tidy."
Episode Guests