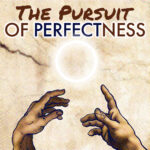 It's hard to make friends as an adult. Right? It's not just us? Okay, cool.
So what's the secret?
Join us this episode as we explore the perfect way to make friends as an adult. Plus, hear from our very insightful listeners who write in with their own advice for making new friends.
Look out your window – the sky's a little bluer, the birds are singing… We're changing the world, baby!
Find us on all the socials @PursuitofPerfectness. Rate us, write us a review and tell your friends!
Episode Guests