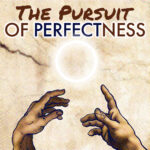 This week the Perfectionists (Ellen and Dennis) talk to stand-up comedian, filmmaker, producer, podcaster, actor, director, and New Yorker cartoonist Victor Varnado (who, he assures us, also wrote all the good parts of the bible).
Our friend Victor is not only a multitalented, cross-medium, cross-platform artist and comedian, he's also a successful entrepreneur/businessman who empowers others to do the same. A big theme of our conversation was finding ways to work on things you're truly passionate about and inspired by.
Victor is the host of at least two podcasts: Six Unseemly Questions and Arts Academy. His next podcast is called Wiki Listen. So after you wiki listen to this, go wiki listen to those!