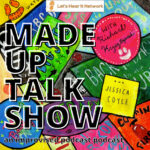 Dulce Lamarca elucidates us on true artistry with the podcast, "On Raúl and Art." In episode 6, Raul teaches his ungrateful SUNY students how to LEARN!
More about Dulce and her work at: dulcelamarca.com
And here is a note from Dulce with the podcast she recommended!
Podcast references I mentioned:- Sayre Quevedo is the artist I was recommending. He has a lot of experience with podcasts.
Link to one episode here– Julio Cortazar, the Argentinian novelist. His short stories in audio (podcast kind of) 
A Bit of Optimism: simonsinek.com/podcast
On Being: https://onbeing.org/programs/mary-catherine-bateson-living-as-an-improvisational-art/ 
Made Up Talk Show theme by Dan Reitz www.danreitz.com
Sound effects obtained from https://www.zapsplat.com